Micromodels London LTD.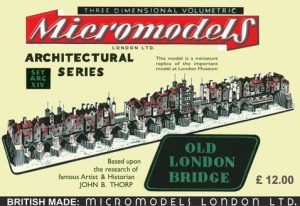 Micromodels London Ltd. is an English publisher who started in 2015. It is run by the German businessman Marian Schahn.
They sell a range of reproductions of the original Micromodels. The prices of the models are printed on the wrappers in pound sterling ( £ ) .
Micromodels London also has a lot of new designs. Most of them are identical to the models of Micromodelle Heidelberg. Most of the wrappers have been designed in English and have a price in Pounds Sterling printed on them. Some of them are also designed in German and have a price in Euro ( € ) .
The models are high quality printed: four color digital print (offset quality). The cardboard is also offset quality.
Every model comes in a plastic bag, to keep the models clean.
Some of the models are quite easy to build, like MM 37 Hortus Palatinus Lusthaus Heidelberg. The parts are quite large for a micromodel, with glue tabs. Ideal for starters.
A more elaborate model is MM 47 Upper Castle Heidelberg. The parts are much smaller, so this comes close to the Micromodels standard. Still with glue tabs on the parts, but most of them should be cut off for a better result.
One of the nicest models is MM 05 Heidelberger Castle with many small parts, a true micromodel.
Another model that needs some attention is MM 06 Bridge over the River Kwai. A large package with 28 cards. Nearly half of the cards are used for the back side of the parts to give it a nice result. The locomotive on the front of the wrapper is not included, but the scale of the model is suitable for Micromodels locomotives and scale N railways.
The Artwork of MM 50 Buckingham Palast is very precise and exquisitely drawn, but you can only build the front part of the building, which is visible from the street.
Note:
Not all of the models are available, because some of the models are planned to be published or some may be out of print.
The wrapper of the published models may be slightly different from the pictures shown on their website.
Calendar 2017
There is a Micromodels Calendar 2017, but it quickly sold out. The calendar contains 12 sets with all the cards printed in the right scale. In may 2017 an extra number of 50 has been printed. That makes a total of 100 pieces.
The sets on this calendar are:
List of models
---