Zio Prudenzio Micromodelli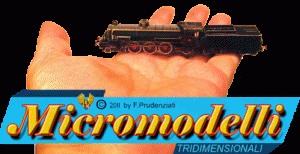 Zio Prudenzio was an Italian pubisher, it was run by Fabrizio Prudenziati (1946 – 2014). He lived in Genua.
In 1976 he founded the company "Grifo", and produced lead toy soldiers.
Fabrizio founded and presided the Accademia Genovese di Modellismo e Collezionismo in 1977.
The next year he left Grifo and founded the firm "Ares" and produced the lead toy soldiers up to 1984.
Later on he started to publish many different kind of paper models, including Micromodelli. These beautifully detailed "Micromodelli" are Italian railways related, and in the 1 : 160 scale, slightly larger than the railway models of Micromodels. They were all designed by Fabrizio.
As a tribute to Fabrizio Prudenziati the website Kendar.org has collected the free downloads of Zio Prudenzio. The downloads of the Micromodelli can be found here.
Below is the collection of micromodelli in scale 1 : 160 .
Steam locos


FS GR 60

FS GR 480

FS GR 625

FS GR 640

FS GR 685

FS GR 691 001

FS GR 691 023

FS GR 740

FS GR 743

FS GR 746

FS GR 800

FS GR 835

FS GR 851

FS GR 880

FS GR 940

Electric locos


FS E 424

FS E 428-1

FS E 428-2

FS E 626

FS E 633

FS E 636

FS E 646-1

FS E 646-2

Diesel locos


FS ALn 56-1 Littorina

FS ALn 56-2 Littorina

FS D 234

FS D 341-1

FS D 341-2

Passenger Coaches


FS Carrozza Centoporte 1cl 2cl bi

FS Carrozza Centoporte 1cl 2cl vr

FS Carrozza Centoporte 2cl bi

FS Carrozza Centoporte 2cl vr

FS Carrozza 1cl 1931 bi

FS Carrozza 1cl 1931 gr

FS Carrozza 2cl 1931 bi

FS Carrozza 2cl 1931 gr

Goods Wagons


FS Carro F

FS Carro FF

FS Carro G

FS Carro Interfrigo

FS Carro P

FS Carro PP

FS Goods Wagons

Rails


rails

stand