Metal Earth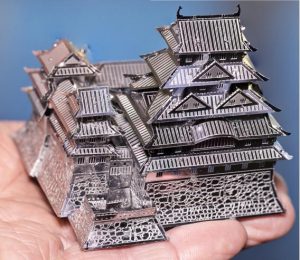 The website World of Micromodels focusses the attention on paper models. We made an exception for Metal Earth because their models could be interesting for the Micromodels fans. They produce highly detailed and very small models. The models are a very similar size to paper Micromodels.
Metal Earth is produced by Fascinations Inc. which is based in Seattle USA. They offer a huge series of kits. All the parts of the models are made of thin metal and are laser cut.
They also produce larger models, this series is called ICONX. But these models are still highly detailed.
A nice touch is the 360 degree view of the finished models on their website. Geoffrey Heighway would have loved the idea presenting his models this way!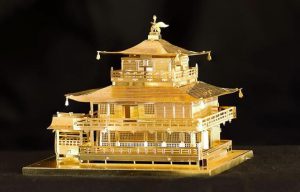 The models are sold in a small envelope which contains one or more sheets with the parts and with English instructions. Each sheet measures 10 x 10 cm. No glue or solder is needed. You can just pop out the pieces and connect them using the tabs and holes.
Interesting for micromodellers are some nice accessories (see the list below).
Metal Earth models can be bought on numerous websites, and in shops.
A large number of Display Stands and Wire Racks are available for shops.
A word of possible warning: Some of the Metal Earth kits offered on the internet are pirated versions! They are advertised as Metal Earth products, but they're definitely rip-offs.
Here are a few examples of the Metal earth models:
Accessories
Description
Solar Spinner Display Stand
number:
SS1
SS2
size: 4.4 x 10 x 10 cm


Led Base White / Blue
number:
MMB2W
MMB2B

Acrylic Display Cubes
number:
MMCUBE1
MMCUBE3
MMCUBE4

Lighted acrylic display
number: MMLAD

Toolkit
number:MMT001