Paper Nano
page 1 / 2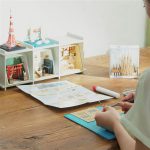 In september 2013 a new kind of micromodel was introduced under the name of Paper Nano: all the parts of the models are laser cut.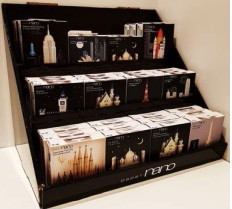 The Paper Nano models are designed by Kawada Ltd. in Japan and distributed by Schylling Toys. You can buy these models on numerous websites worldwide. A Display Stand is available for shops.
You can now make a wonderful, very detailed model without the problem of cutting out all those tiny parts. The very fine details are impressive.
PN-01 Eiffel Tower was the first model and was released on 21 sep 2013.
The release of the PN-100 series started in april 2015.
Many of the models are presented in a display box.
The instructions are detailed and in full colour, and most are both in Japanese and English.

Another series is the PND Deluxe Editions. These models are a little larger than the other ones, so they can not really be seen a a micromodel. But due to the exquisite small details they deserve a place in the list.

Finally there is the PNF framed series: models that can be framed and be put on your desk or on a wall. Again not exactly a micromodel, but still very detailed and small.
The collection of Paper Nano also includes some accessories:
Paper Nano Tweezers and Bond
Led Display Lights with varied colours to be put under your model. Some models can be beautifully lit.
notes:
Not all the models have correct dimensions. The Tower Bridge (PN-110) is a good example. The towers are too large, the sides of the bridge too short, and the bus is so huge it does not fit under the gate. This model is more of a caricature than a realistic model but it is still a cute one.
The PN-100 series have some improved models. One example is the Eiffel Tower number PN-01 and PN-112.
Name
Description
Eiffel Tower
number: PN-01
size: 9 x 9 x 5 cm


Tower of Pisa
number: PN-02
size: 9 x 9 x 5 cm


Big Ben
number: PN-03
size: 9 x 9 x 5 cm


London Eye
number: PN-04
size: 9 x 9 x 5 cm


Kyoto Temple
number: PN-05
size: 9 x 13 x 5 cm


Skyscraper
(Chrysler Building)
number: PN-06
size: 9 x 13 x 5 cm


Romance
(Rialto Bridge Venice)
number: PN-07
size: 9 x 9 x 5 cm


Study
number: PN-08
size: 9 x 9 x 5 cm


Windmill
(Dutch Windmill)
number: PN-09
size: 9 x 9 x 5 cm

v
PN-100 series
Description
Himeji Castle
number: PN-101
size: 9 x 9 x 6 cm


Five Story Pagoda
number: PN-102
size: 9 x 9 x 6 cm


Kaminarimon Gate
number: PN-103
size: 9 x 9 x 6 cm


Schloss Neuschwanstein
number: PN-104
size: 9 x 9 x 6 cm


Sagrada Familia
number: PN-105
size: 9 x 9 x 6 cm


Taj Mahal
number: PN-106
size: 9 x 9 x 6 cm


Kitchen
number: PN-107
size: 9 x 9 x 6 cm


Tokyo Tower
number: PN-108
size: 14.5 x 7 x 7 cm


Music Room
number: PN-109
size: 9 x 9 x 6 cm


Tower Bridge
number: PN-110
size: 6.5 x 8 x 8 cm

Inari Shrine
number: PN-111
size: 9 x 9 x 6 cm


Eiffel Tower
number: PN-112
size: 15 x 7 x 7 cm


Kyoto Temple
number: PN-113
size: 9 x 5 x 9 cm


Jack-o-lantern
number: PN-114
size: 12.5 x 10.5 x 3.5 cm


Sydney Opera House
number: PN-115
size: 9 x 9 x 6 cm


Big Ben
number: PN-116
size: 9 x 9 x 6 cm


Hong Kong
number: PN-117
size: 9 x 9 x 6 cm


Tokyo Skytree
number: PN-118
size: 15.5 x 7 x 7 cm


Japanese lucky charm,
Little hammer
number: PN-119
size: 9 x 9 x 6 cm


Japanese Samurai,
Yukimura Sanada
number: PN-120
size: 11 x 5 x 1.5 cm


Boutique
number: PN-121
size: 9 x 14.5 x 6 cm


Empire State Building
number: PN-122
size: 15 x 10.5 x 3 cm


Space Center
number: PN-123
size: 14.5 x 9 x 6 cm


Black Pirate Ship
number: PN-124
size: 14.5 x 16 x 7 cm


White House
number: PN-125
size: 9 x 14.5 x 6 cm


Garage
number: PN-126
size: 9 x 14 x 5 cm


Sailing Ship
number: PN-127
size: 12 x 16 x 6 cm


Grand Hotel Taipei
number: PN-128
10.5 x 11.5 x 3 cm


Jellyfish
number: PN-129
size: 14.5 x 9 x 6 cm


Notre Dame
number: PN-130
size: 14.5 x 9 x 6 cm


Kiyomizu-dera Temple
number: PN-131
size: 9 x 9 x 6 cm


Palace of Versailles
number: PN-132
size: 14.5 x 6 x 9 cm


Kumamoto Castle
number: PN-133
size: 9 x 9 x 6 cm


Study
number: PN-134
size: 9 x 9 x 6 cm


Titanic
number: PN-135
size: 6 x 15 x 3 cm


Electric guitar Red
number: PN-136
size: 9 x 9 x 14 cm


Violin
number: PN-137
size: 9 x 9 x 12.5 cm


Grand Piano
number: PN-138
size: 7 x 10 x 10 cm


Drum set
number: PN-139
size: 10 x 10 x 9.5 cm


Matsumoto Castle
number: PN-140
size: 9 x 9 x 6 cm


Neuschwanstein Castle
number: PN-141
size: 7 x 7 x 8 cm


Tokyo Station Marunouchi Building
number: PN-142
size: 28 x 6 x 9.5 cm


Taj Mahal
number: PN-143
size: 7 x 7 x 6.5 cm


Five-Storied Pagoda
& Mount Fuji with Cherry blossoms
number: PN-144
size: 7 x 7 x 7.5 cm


City series: Tokyo
number: PN-145
size: 18 x 10 x 10 cm


Shirakawa-go
number: PN-146
size: 7 x 7 x 5.4 cm


City series: Kyoto
number: PN-147
size: 17.5 x 10 x 6 cm


Red Pirate Ship
number: PN-148
size: 6.5 x 14.5 x 14.5 cm


Leaning Tower of Pisa
number: PN-149
size: 7 x 7 x 6..4 cm


Nagoya Castle
number: PN-150
size: 7 x 7 x 5.8 cm