MicromodelsUSA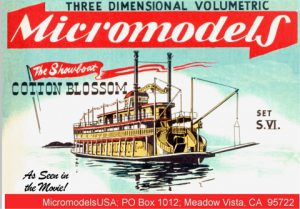 In the year 2005 Matthew Sparks started publishing under the name of MicromodelsUSA.
He wanted to continue the work of Geoffrey Heighway.
Bringing to life the models that he planned to release but never quite got around to, and some new models he hadn't thought of yet .
These models are of a high quality, with very much similarity to the Micromodels of Geoffrey Heighway.
They also released a range of re-issues of the original Micromodels.
Gladly they are clearly marked as produced by MicromodelsUSA, so you cannot confuse them with the originals.
The website is currently offline
Here are the new published models that Heighway planned to release:
MicromodelsUSA has also a number of own designs.
– Set AV-6 PBY-5A 'Catalina' Seaplanes contains two PBY-5A Catalina Flying Boats from the US Navy:
This model is also published as the Catalina Flying Boat from the Modelcraft set H1 Flying Boats, but with a completely different colour scheme.
The numbering of the Arizona Memorial is a little confusing: set IXX  should be set  S XIX.
ARC XXXIV
Stonehenge

scale 1 : 800

built by Bas Poolen

built by Bas Poolen

ARC XXXV
Old London Phone Boxes

ARC XXXVI
St. George's Chapel

scale 1 : 1300

built by Bas Poolen

AV 6
2 PBY-5A 'Catalina' Seaplanes
– 1941 'Pearl Harbor'
– 1943 'Black Cat, Recon'

AV 7
Boeing B-17 vs Messerschmidt ME-163

OW 2
Oil "Abadan" Set

This model was published by Micromodels Ltd. as set OW.
MicromodelsUSA made a nice revision.
It is printed in colour

and a card with laser cut pieces is temporary added.

PG 9
Famous Movie Train Olton Hall

IXX

(S XIX)

USS Arizona Memorial

S XXI
Battle of Hampton Roads:
C.S.S. Virginia vs U.S.S. Monitor

S XXII
Bushnell's Submarine Turtle 1776

built by Bas Poolen

S XXIII
Robert Fulton's Submarine Nautilus

SP I
4 Little Space Ships:
Mercury . Gemini . Apollo . Lunar Module

Micromodels Storage Binder

front

back