MicromodelsUSA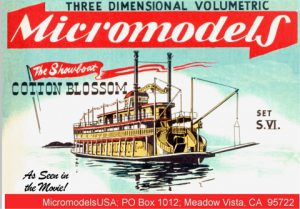 In the year 2005 Matthew Sparks started publishing under the name of MicromodelsUSA.
He wanted to continue the work of Geoffrey Heighway.
Bringing to life the models that he planned to release but never quite got around to, and some new models he hadn't thought of yet .
These models are of a high quality, with very much similarity to the Micromodels of Geoffrey Heighway.
Micromodels USA is regularly adding new models to their range of Micromodels.
They also released a range of re-issues of the original Micromodels.
Gladly they are clearly marked as produced by MicromodelsUSA, so you cannot confuse them with the originals.
Here are the new published models that Heighway planned to release:
---
---
MicromodelsUSA has also a number of own designs.
– Set AV-6 PBY-5A 'Catalina' Seaplanes contains two PBY-5A Catalina Flying Boats from the US Navy:
This model is also published as the Catalina Flying Boat from the Modelcraft set H1 Flying Boats, but with a completely different colour scheme.
– Alas the numbering of some models is a little confusing :
Set IXX (Arizona Memorial) should be set  S XIX.
Set XXII (Nautilus) should be set S XXII, but that is already used by set S XXII Turtle.
---
---